Am I wrong to love restaurants that offer 2-for-1 sushi deals above all others? I mean,
2-for-1
! A friend and I went to a non-2-for-1 place last night called
Ginger
on 1st Ave. It was very good actually. And you would not believe the combos they feature (and she said were must-eats). We had, ready for this? Eel/peanut butter/banana/crispy flakes. I must have an iron stomach. They call this the "Muse." I would call this the "Elubisu Roll" (that's Elvis in Japanese (see
kata kana
usage)) It was actually tasty in a weird texture sort-of-way. And the "Crunchy" -- spicy tuna/cucumber/crunchy bits was very very delicious in a normal sushi sort-of-way. I also tried a special combo with mackerel and kimchee. Not as successful. Too bad.
In the end I still prefer
Jeollado
(another place we go together a few blocks away), because they offer 2-for-1 every minute of the serving day and they have rainbow rolls for $3.50 and up which are quite tasty. I simply prefer
the taste
of cheaper sushi. They also have an amazing seaweed salad that is on the Korean side of things with giant mushrooms and some sort of mysterious lemony miso dressing that I could eat every day of my life and be happy. I'm off to eat my breakfast. Peanut butter toast and coffee, minus the eel. Maybe a banana later though.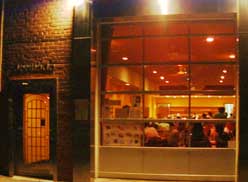 Jeollado, photo from norizo.com
Labels: bargain finds, restaurants, tuna